Posted by Gregov on 10th February 2008
Early Colonization
A general overview of the early colonization of the Philippines.
History is determined by fate. A self evident fact. Why places and people become what they are is generally influenced by the nation which was dominant at the time.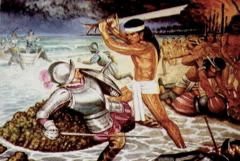 The Romans in their day influenced Europe, Egypt, Mediterranean and North Africa.
Great Britain influenced one third of the Globe at the height of her power.
Well, in the sixteenth century there was another major player, and for good or ill, right down to the name, the destiny of the Philippines was to be sealed by the Spanish.
Magellan
History and the fickle hand of fate……….
The Portuguese navigator Ferdinand Magellan, under service to Spain, landed on Homonhon Island, Eastern Samar on March 16th, 1521.
Magellan (pictured) was killed the following month on April 27th by Lapu Lapu chief of Mactan – an Island off the east coast of Cebu, in the central archipelago. The Battle of Mactan as it was later to be known, is commemorated as the first Philippines conflict to repel alien invaders, and Lapu Lapu lauded as the first Filipino to fight and win over foreign imperialist forces.
He is commemorated with a statue in Mactan, and Lapu-Lapu City is named in his honour.
Of course, it's worth noting that at that time Lapu Lapu was not a Filipino because the Islands had not been named as such then. A technicality perhaps, but decidedly in his favor was that he was a local chieftain who was not going to kowtow to Spanish superior forces as had his neighboring tribal leaders with such surprising submission.
The first king of Spain
Magellan claimed his new found land for Charles I (often referred to as Carlos V), who only five years earlier had become sovereign of a unified Spain. His only surviving son, born in 1527, succeeded him as Philip II in 1556 to rule over an ever expanding empire.
It is often a misconception that Magellan named the Islands the Philippines. It was not until 22 years later, in 1543 that Ruy López de Villalobos led an expedition to the islands and gave the name Las Islas Felipinas – after the aforementioned Philip, who then was still only the heir apparent – to the islands that Magellan had first laid claim, Samar and Leyte. The name would eventually be given to the entire archipelago… but not just yet.
More About Magellan
When Magellan arrived at Homonhon in that year of 1521 he had been on his voyage for almost one and a half years. He had already lost two of the five ships which first set out, as well as one third of his crew. Obviously being welcomed so well by the Rajah Kolambu of Limasawa, a local chieftain would have come as utmost relief.
Kolambu in turn introduced him to Rajah Humabon of Cebu, who – impressed with Magellan's armoury and ships – happily converted to Christianity.
Humabon later managed to convince Magellan to embark on a mission to kill his rival Lapu Lapu of Mactan.
Magellan Ends His Life In Cebu
In what appears to have been a reckless ill thought endeavor, it led to his death. Perhaps Magellan's drive to convert the indigenous tribes to the Catholic faith, had impaired his judgement.
Whatever conversation took place between Humabon and himself through his translator Enrique of Malacca, we shall never know, but perhaps some misunderstanding took place.
Its also possible that Magellan was so deluded that God was on his side, he believed himself invincible. (The image shows the site of Magellan's death).
Consider the facts: he did not take his most experienced soldiers with him, and he failed to reconnoiter Mactan's coastline. Consequently he was unable to land his cannon, and marched knee deep through the water with forty of his men, to be overpowered by 1500 natives (or so the story goes – the numbers were possibly slightly exaggerated).
And the rest, as they say…is history!
And on that subject, the tale was finally conveyed to the Spanish king by the captain of the sole surviving ship able to limp home, and in so doing manage to complete Magellan's circumnavigation.
So began (albeit not overnight) the Spanish conquest and colonization of the Philippines.
Legazpi
This is not a history of Magellan or his circumnavigation. What happened to the remaining ships, and the one which finally made it home – the Victoria, already have their place in history.
This history of the Philippines is concerned only that her captain Juan Sebastian Elcano (pictured) was able to relate the tale when he finally returned to Spain in September 1522. (Perhaps this is how the inflated number of Magellan's opposing forces on Mactan occurred – after all, it's always best to be defeated by overwhelming odds!).
There was to be no great substantial account of the voyage for a further three years.
It was not to be three years when the Philippines continued in isolation, nor three years of relative piece before the storm – there was to be a handful of small forays to the islands prior to the Villalobos expedition, but it was to be Villalobos who really started the ball rolling, although not very far. And yet, it was to be another 22 years after him, before Philip finally took a much more serious interest in finally securing the islands named in his honor! 
It was February 13, 1565 when López de Legazpi and his troops landed on the shores of Cebu and established the first Spanish settlement. It was a Friday!
The First Governor And The First Capital
Miguel López de Legazpi was born in 1502. He was 19 years old when Magellan first landed in the Philippines.
In early 1564 Philip II ordered an expedition to follow the Magellan and Villalobos ventures, and Legazpi, who at the time was the governor of Mexico City, was commissioned to undertake the task by the viceroy of Mexico, Luis de Velasco.
In November of the same year Legazpi set sail with five ships and 500 soldiers. He was then 62 years old. He arrived in the Philippines on February 13th 1565.
The next 6 years would be a period of establishing small settlements, negotiations and skirmishes with local chieftains, attempts at introducing the Catholic faith, and welcoming reinforcements from Spain and Mexico of additional troops and laborers.
Slowly but surely, bit by bit, over this period, the Spanish planted their roots.
It was June 24th 1571 when Legazpi established Manila as the capital of Spain's new colony. Astounded by the size and excellence of this natural harbor – he built the walled city known as Intramuros.
With the help of Augustinian and Franciscan friars he became the first Spanish governor of the Philippines and worked to convert the indigenous population to the Catholic religion. He died of heart failure a year later in 1572. He was 70 years old.
The Philippines, after considerable conflict, finally managed to declare independence on June 12th 1898. Spain had ruled them for 327 years – but what a story to tell in the meantime…..!
If you enjoyed this post, make sure you subscribe to my RSS feed!
Posted in Historical Odds and Ends | No Comments »